This event still seems to get the most attention and refection of anything I've ever done, but at the time it didn't seem (and still doesn't seem) like such a big deal - at least for me. For the country . . . okay, it probably did go bigger than I thought it could - but glad it accomplished it's goal, and this is all I ever wanted from it - nothing nore - nothing less. Goal achieved, I'm very happy with just that. Now, almost 20 years later, I am still questioned about all of it, so to make things easy, here's the story of how I made a song, and started a national movement . . .
September 1990, it's the beginning stages of the Gulf War. Back at that time, it was Operation Desert Shield. We had soldiers there, and more on the way. A few of them were close personal friends I grew up with. My brothers (extended family - not blood relations).
I sat down and thought long and hard - all of about 15 minutes. I resolved that the best thing I could do considering the circumstances, was make a public declaration of support. NOT support of a potential war, but support of my ... OUR ... brothers and sisters - sons and daughters, who are willing to lay down their lives to keep us protected from aggression and attack - threat and abuse. Soldiers, who for over 200 years have died so I could live in a country where I am completely free to choose my own destiny.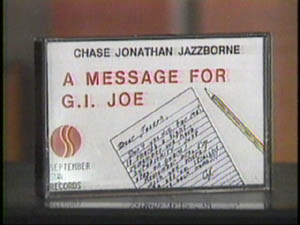 I first wrote: A Message For G.I. Joe. This song is a letter to my fictional brother Joseph (G.I. Joe), I thought of the words imagining that my little brother Jake was on his way to the Persian Gulf. What would I say to him? I remembered a quote from General Patton, who said: "it's not your job to die for your country, it's your job to make the other guy die for his", or something like that. Not that I completely agree with a statement like that in it's entirety, but I grabbed up the "I don't want my brothers to die" part and made that the body of the song.
The chorus of the song is the actual message to ALL of our G.I. Joes:
"Don't you die for me! If there's a fight remember we have superiority. Just stay on guard - I'm with you there. Set 'em straight and get back home!"
Once the song was done (took about 3 hours for that one - still can't believe how well it flew together), I set out to make it as public as I could. I had media ties due to my video work, so I called up a friend at a local station and let them know I had something hot for them. I lied. They thought I was declaring an official war protest - something they were waiting to pounce on. And in the beginning I thought I was destroying the trust by eluding to something like that, but later "hot item" turned out to be true - thank God.
Like I said, I knew the media was gearing up to exploit war protesting and protesters big time. I decided I did NOT want my brothers spit on for doing what our government asked of them - politics or no politics! They don't make the call, the chief does - good or bad. Not my call either, and I'm truly not qualified to do more than go with the flow, if I haven't done the proper research. If I have, then I should rally people, if need be, or get off my butt and become a politician and do something about it!
What I was qualified to do (at that time), was to support my bothers (no, not war)...
When the reporter arrived, she was ready to capture the first real hot war protester. Once she was there, I flipped the table on her and hit her with what I was really up to. Initially she was not happy, but within a few minutes she began to see where I was going, and agreed that such an approach would be different, but much better in the long run for the country. She took a risk in doing the piece as it is now seen in the news video. She is my hero!
I've had the word "hero" thrown at me a few times in relation to these events - outspoken at times? Yes. Hero? Not for this. But, if anyone is a hero here, it's the reporter who went out on a limb professionally. She is as much to do with getting any credit for what happened here, as I was for thinking it up. If she hadn't agreed with me on doing the piece as it is, the end result following the Gulf War very well could have been the same (publicly) as it was at the end of the Vietnam War, and that was NOT acceptable to me, then or now!
We did the piece - the deed was done. Next was whether or not the News Director would side with us and let it run. He did, and it aired! Then the true magic happened, and my biggest heroes of all: CNN. They picked up the piece, and ran it nationally. I got calls from friends and family in New York and Texas. Considering how many people I heard from, the piece had to have been played up the wazoo!
Three days after the first airing on local TV, I got another call from my friend in New York who was watching the piece yet again on CNN while we were on the phone. I could hear myself singing in the background. I was flabbergasted!
Next came offers of re-recording, radio air play, free mass duplication of cassettes and printed materials; t-shirts and radio interviews and other show appearances and interviews. It was crazy - but in a really good way. My message was getting out there and being very well received. Other REAL celebrities followed my example and a true "movement" was born. I couldn't be happier or more proud (with exception of the birth of my kids of course).
Without further banter, you can listen to the song in a few different ways using the links in the following box. At the top is the latest MP3 master of "GI Joe", dubbed straight from the last Studio Master Tape. Best sounding version to date. Also available is MP3 are files of:
NOTE: if you try to play the file from the internet, you might trip a security warning from your browser. You will have to "Allow Blocked Content" to allow your MP3 player program (Quicktime, etc.) to play the file.
SONG LINK
..
Lyrics at the bottom of this page
..
Although I retain all copyrights to the song: A Message For G.I. Joe (© 1990 Chase Jazzborne, all rights reserved.), anyone and everyone is welcome to copy the song to their music library for free. You may also distribute copies of the song, as long as you do so FOR FREE. Absolutely no money can be charged for copies, or copying this song.
..
If you want to copy the file to your computer, right click the link and select "Save Target As", and put it into a directory you can remember. You can even rename the file to something easier for you to remember what it is.
..
---
..
See copyright notice above.
..
See copyright notice above.
..
See copyright notice above.
..
---
Video for this page is titled: GI Joe Project - in player at bottom of page.
..
And it didn't stop there either. Oh no. After I had finished G.I. Joe I wrote two more songs; one an instrumental called: Desert Search, and Yellow Ribbons (sorry, not available here yet).
Because of what was happening, I had already resolved that when the holidays came up that year, I would decorate our Christmas Tree with nothing but yellow ribbons. This based on some earlier news pieces where some people back east had appeared on the news tying yellow ribbons on trees for the first returning soldiers from the Persian Gulf (as referenced by the old Tony Orlando song: Tie A Yellow Ribbon On The Old Oak Tree). Which, if you think about it, were probably the first real Support The Troops type messages that aired. Again, CNN was responsible for making those quite public - thanks guys!
With thoughts of my own upcoming Christmas Tree (to be covered by only yellow ribbons), I wrote Yellow Ribbons as another message to G.I. Joe, telling him about our tree covered by only yellow ribbons in his honor. I thought that one would just be a private support song, but when the initial craziness of G.I. Joe settled down I was again approached by media, who was looking for a Round Two.
I introduced Yellow Ribbons, but none of us were sure what to do with it at first. The press exercised their muscle, and the next thing I knew I was sending a broadcast half-track of the song to Bob Hope, so he could deliver it to Armed Forces Radio during his USO visit to the troops. What an honor that was! The only thing better would have been going there to do the song in person for the troops.
As the holidays pressed on two things happened:
ONE: I received a request from a lady in charge of special services at the USO headquarters in San Diego. She was wondering, after seeing me a whole bunch of times on TV and hearing GI Joe on the radio, if I might have the clout to get some Christmas Trees to some military families caught off guard by the deployment, and had no funds for a tree on their own.
It was December 17th, and In a matter of minutes, I was on the phone to Jon Cooper, and we headed out to Pinery Tree Farms in Escondido. Once there, I asked the owner if he could spare some trees for the families. He said he could do that. We were thrilled.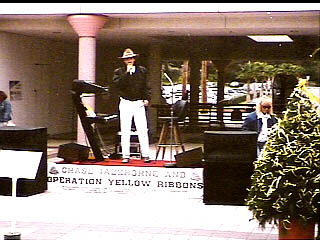 On the spot, I was moved to thank him in a better way, and then the idea came on how to get the trees decorated just like mine... I told him, as thanks, I would hold a special mini-concert of Yellow Ribbons and invite the press (who wanted more from me anyway). This would get him some nice exposure. He responded with his own thanks, and took us to a special area where he had some LIVE premium VIP trees. He let us choose the three we needed - the best he had!
Wanting to help support the cause, the next to get involved was the manager of The Grove shopping center in Lemon Grove, who donated the venue for our small concert, and all the gear to hold the live outdoor event. The concert was held on Saturday, December 22nd, where we took the trees, and I sang the song every 15 minutes. The trees turned yellow from hundreds and hundreds of yellow ribbons tied to them, by the end of the day.
On Sunday the 23rd, and Monday the 24th Jon and I delivered the trees. It took two days, as we needed to coordinate with the families, and the fact that the trees were so large, we could only deliver one at a time in my small pickup. At 8:00 PM on Christmas Eve, we delivered the last tree to a pair of happy children, and their teary eyed mother. Made me feel like Santa Claus!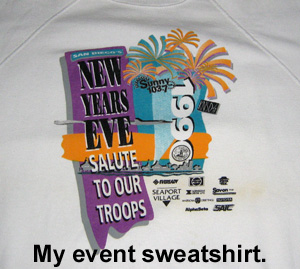 TWO: Following that event came a call from another radio station who had not been airing our song, due to the exclusivity we gave to 102.1. Never the less, I was approached with an invitation to appear as a headline act in a special tribute show to be held on New Year's eve. Jon went to a meeting and the next thing I knew, I was prepping for a national broadcast live event, to be carried by NBC. When I asked: "why me?", the answer was: "Well you're the guy who started all of this - who else?"

The final footage of the video in the player below entitled: GI Joe Project, ends with footage shot by Jon Cooper with our old VHS camcorder, from the NBC camera tower at Seaport Village on New Year's eve, 1990, at the: "New Year's Eve Salute To The Troops", USO show.
.........
---
VERSE 1
My brother Joseph joined the forces - going to see the world
He said this country needs the help of all our citizens.
Defend our freedom not go baby-sit some crazy man…
When Joseph left to sail I placed this message in his hand:
CHORUS
Don't you die for me!
If there's a fight remember we have superiority…
Just stay on guard - I'm with you there…
Set 'em straight and get back home!
VERSE 2
I got a letter from Joe telling of a crazy land…
The people hate us here - this kind of travel wasn't planned.
He said to fight for freedom he would do and die with pride…
The saddest thing is if the fighting starts he won't know why!
(BACK TO CHORUS)
---
Use arrows at bottom right of player to change pages...